welcome to the breadoven (a.k.a. brickoven, pizzaoven, woodfired oven, masonry oven)
Welcome to the bread oven. Here you'll find information about brick oven projects and the art of baking bread, pizza, nan etc.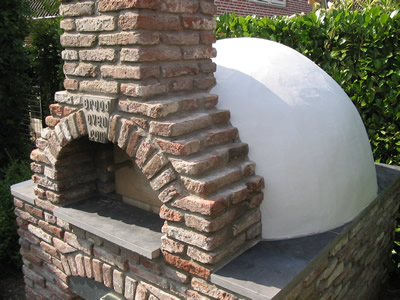 This site is written in Dutch. We are not in the position to manually translate the site but if you're not Dutch than THIS LINK will auto translate the site to English. Have fun!
Bread ovens, pizza ovens, brick ovens, masonry ovens .. a woodfired oven has many names. Fortunately it all comes down to one thing: an oven made of clay or stone and fired with wood. The cooking chamber of such an oven usually is the place where the oven is fired. So, after firing push the embers to the side (for pizza) or take them out (for bread) and bake!!
There are not so many traditional woodfired breadovens in Holland. In Belgium however there still are many bread ovens (or bake ovens as they call them). Likewise, Belgium has a high reputation for sourdough bread. It's time to do some traditional baking in a traditional oven in Holland. And ofcourse don't forget true Italian pizza; what's more fun than having a pizza party in the backyard?
So what are you waiting for .. let's get started!
try the ultimate diy wood fired brick oven search engine
This search engine searches all the major d.i.y. brick oven websites (in English) on the internet.